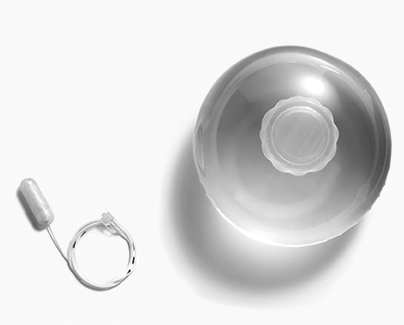 Allurion Balloon Pill
The Allurion balloon is a non-surgical, non-endoscopic solution for patients who wish to lose a moderate amount of weight, but may not wish to undergo, or may not qualify for, a surgical or endoscopic weight loss procedure.
The Allurion balloon is unique in that it is introduced into the stomach by swallowing a simple pill and doesn't require sedation. The procedure can be performed at the office in about 15 minutes.
How Allurion Works
The patient swallows a pill, connected to a long thin tube. After approximately 10 minutes, we perform an x-ray of the abdomen to ensure that the pill has been appropriately introduced into the stomach. At this point, the balloon is filled with about 550cc of sterile saline (saltwater) – to about the size of a grapefruit. The tube is then removed. A second x-ray is then performed to ensure the balloon remains in the appropriate area of the stomach.
The volume of the balloon takes up space in the stomach previously used for food. This allows for
Faster satisfaction and eating smaller portions
A feeling of fullness, which will help reduce cravings
Feeling satisfied for longer, as food takes longer to leave the stomach
The balloon remains within the patient's stomach for four months, at which point a time-activated release valve allows the water out of the balloon and the shell passes through the normal digestive system easily. This means no return to the clinic for removal.